The Jogging Bucs
October 28th, 2022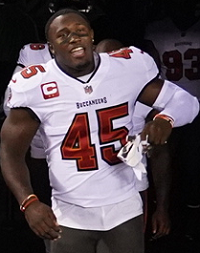 Warning, the following is painful to any Bucs fan who understands that trying hard is essential to winning a game tied in the third quarter.
Joe has written about some loaf plays this season and has filed away others to note at a more appropriate time. Joe Tryon-Shoyinka usually drives Joe crazy when it comes to a shaky effort on film. JTS can be so intense and then he'll throw his hands up during a play when it's not going his way. Odd.
Anyway, the Twitter video below from @evan_WinterAtoZ is of the Ravens' 3rd-and-9 play with the score tied at 10 with just under two minutes remaining the third quarter.
If you have the stomach to watch it, you can play count the joggers. Devin White is the most inexcusable offender; he flat out quit on the play.
Keep in mind that players are coached since Day 1 of their football lives to play through the whistle, and remember that this is a home game with an ugly losing streak on the line.
The Bucs are not playing hard for their defensive playcaller/head coach.
1000000% inexcusable effort from #GoBucs LB Devin White on this play:
(📽️: @josh_queipo) pic.twitter.com/yM1J76qxkT

— Evan Winter (@evan_winterAtoZ) October 28, 2022