About The Tom Brady Divorce Announcement
October 28th, 2022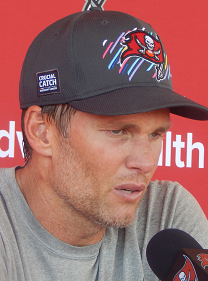 Joe sure hopes fans realize many players have issues in their personal lives that may or may not affect their play on the field.
A few Bucs examples you probably never heard of.
A guy currently on the roster once played through filing an order of protection against his former girlfriend, and it wasn't because she through a pillow at him. It was serious. Another was contesting an ugly paternity suit.
A couple of young Bucs of The Lost Decade had substance abuse issues, and Joe even verified that two Bucs of The Lost Decade were evicted from their Tampa apartments during the season. That's right, couldn't or didn't pay the rent of a rather standard but nice apartment (and that was before local rents went through the roof.). Heck, the Bucs had a quarterback dealing with sexual assault allegations and Jason Licht and Team Glazer had no problem putting the franchise in his hands.
Joe could write other examples. But this is why Joe doesn't care much about the Tom Brady divorce announcement this morning. Brady posted it on his social media.
Joe is not about to speculate whether Brady is happy or sad about it (some guys get divorced and are relieved and invigorated). Joe also won't speculate like others will about when Brady's marriage began falling apart, or when it was at its worst.
Nobody will know that truth and it's meaningless to Bucs fans now, Joe believes.
Brady is healthy and he's the Tampa Bay quarterback. There's no reason to think his personal life is affecting him more than any other player's.
You're not going to get the too-common "distracted Brady" talk here.