The Quote Is Coming
October 16th, 2022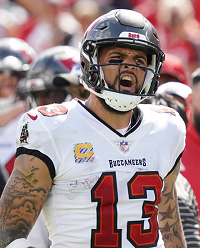 Joe can almost hear Todd Bowles already speaking tomorrow. Call it an educated premonition. "We have to get Mike more involved early in the ballgame."
It's a song that sung nearly every season since Evans arrived in 2014.
Why Bucs playcallers have a brain freeze and forget about the greatest receiver in Bucs history is beyond Joe's pay grade.
Today, against a second-rate Steelers secondary, Evans was targeted four times. And he is healthy.
Someone please tell Joe that Evans isn't capable of running a slant pass for a first-down in short yardage. You'd be lying if you did.
Evans not getting involved almost feels like a crime against Bucs fans. Team Glazer should launch an investigation. Tom Brady should be drug tested. Byron Leftwich should get a pie in the face.
Rest assured that Evans will be targeted early and often against the Panthers next Sunday and Bucs fans will ask, "Where was that last week?"