Running Right At Joe Tryon-Shoyinka
October 9th, 2022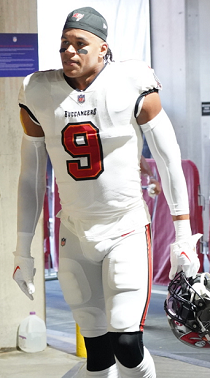 Big chatter in Atlanta last week was the Falcons closing out the Browns with 14 consecutive run plays.
Joe loves passing, but that's badass football right there.
Today, Joe sure hopes the Bucs get a lead on Atlanta so the Falcons can't do what they do best. Regardless, Joe expects Atlanta to hammer away at the run game early and come right after Bucs edge rusher Joe Tryon-Shoyinka.
JTS hasn't exactly had a breakthrough sophomore season (1/2 sack and 1 tackle for loss), and today he'll get a steady diet of Falcons ironman left tackle Jake Matthews, who has 132 career starts.
Joe's really hoping today is a day for Tryon-Shoyinka to break out and look like a beastly first-round pick. You know, play the run tough early (not his strong suit) and then harass Marcus Mariota all through the second half while the Bucs have a lead.
Joe knows the Bucs believe in JTS, but Anthony Nelson's production is getting hard to ignore.