Julio Jones Will Not Play; Among 7 Bucs Inactive
October 9th, 2022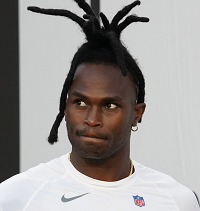 Julio Jones is more of a weekly Bucs fantasy that a football player, but Joe is enjoying the ride.
At some point Julio will return to help the Bucs win a game.
Apparently, Julio tested his sprained knee this morning and it wasn't good enough to go against the Falcons. It would have been Julio's first snaps against the team that drafted him.
He'll join Cameron Brate (concussion), Akiem Hicks (foot) and Logan Ryan (foot) on the inactive list for today's game, along with receivers Breshad Perriman just-called-up Deven Thompkins and always-inactive QB Kyle Trask.