Mike Evans Now Tied For 66th On The All-Time Touchdown List
October 2nd, 2022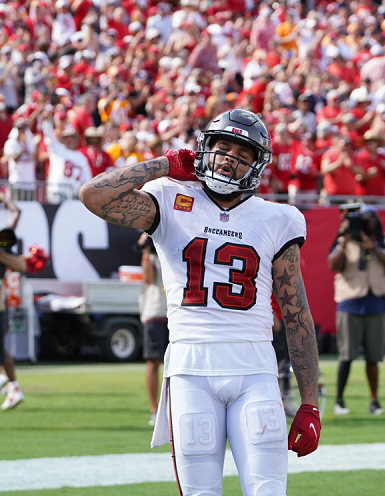 Mike Evans broke a franchise record tonight, but he also leapfrogged some legends in the NFL record books.
Evans' two touchdown catches against the Chiefs give him 79 for his career. That's tied for 66th on the all-time list. Damn impressive for a guy who doesn't turn 30 until next August.
Evans passed Eddie George, Fred Biletnikoff and Steven Jackson (among other) with those two TDs. With another seven TDs this season, Evans will move into the top-50 in NFL history.
Joe would have loved to see Evans get even more targets tonight, but he was stellar in his return following a one-game suspension. Evans led the Bucs with eight catches for 103 yards on 10 targets.
Joe sure hopes Byron Leftwich and Tom Brady look at their weapons and realize a throw-throw-throw philosophy suits this Bucs team.
As for the franchise record Evans cracked, he now has more yards from scrimmage than any player in Bucs history, passing James Wilder (1981-1989) early in tonight's game.