"They Kicked Our Butts All Over The Field"
October 3rd, 2022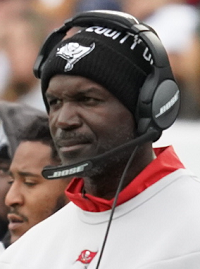 Head coach/defensive playcaller Todd Bowles took to the post-game podium following the Chiefs debacle and took responsibility for his team's horrid defense.
"They kicked our butts all over the field," Bowles said.
Bowles also went of his way to mention nearly every phase of defense.
"Turnovers had nothing to do with it," he said. "… Our red zone defense was poor. Our run defense was poor. Our pass defense was poor. Our third-down efficiency was poor. And we played a poor game and that falls on me. I'll take that."
Joe was flabbergasted by the horrid run defense that truly has taken a giant step and a half backwards this season. The Chiefs' run game isn't too special, yet they hammered out 37 carries for 189 yards and iced the game when the Bucs knew the run was coming. The latter is always a sour sign for a defense.
The defense truly looked like it left its game in Miami, where the Bucs practiced all week.
Joe's having a hard time processing how the defense went from truly great to crap (at home) seemingly overnight.