Mike Evans Extends Sour Tom Brady-Era Streak
October 28th, 2022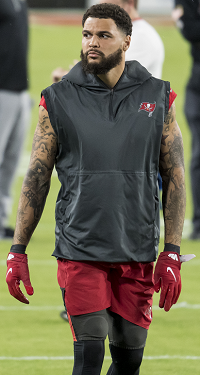 It didn't get any headlines earlier this week, but Mike Evans entered tonight's sad loss to the Ravens on a new streak that surely made him and every Bucs fan cringe.
And he extended it.
Evans not catching a touchdown pass tonight made it four consecutive games that he hasn't caught a TD. Before Sunday in Carolina, Evans had not gone more than two games in the Tom Brady era without a touchdown, including the playoffs.
Evans led the Bucs tonight with 6 catches for 123 yards on 11 targets.
For former Bucs cornerback Richard Sherman, an analyst on tonight's Amazon broadcast, that's nowhere near enough.
Sherman said the Bucs need to pump a bunch more passes into Evans because it's an effective strategy. Former Bucs quarterback Ryan Fitzpatrick argued with Sherman a bit, saying Tom Brady doesn't play that way and won't do it. Sherman barked back that he needs to, and Fitzpatrick insisted it won't happen.
"This offense is broken," Fitzpatrick said. "I don't see a fix anytime soon."