Julio Jones Among Four Bucs Ruled Out For Sunday
October 21st, 2022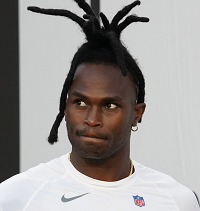 Julio Jones will not take his 51st snap of this Bucs season on Sunday.
Todd Bowles made it official today that Julio will continue to nurse his bad knee. He'll join Akiem Hicks (foot) Cameron Brate (neck) and Sean Murphy-Bunting (quad) in the street clothes crowd.
The best injury news of the day is that ballhawk safety Mike Edwards is good to go after an elbow injury.