Time For Bruce Arians To Wear A Headset
October 16th, 2022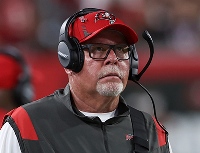 Through six games, the Bucs offense does not resemble the powerhouse Tampa Bay attacks of the past three years.
There are many reasons and possible reasons, but a certainty is that there is one giant missing piece from the offense, and it's not Ryan Jensen or Ali Marpet or Rob Gronkowski.
Joe's referring to the architect of the offense, Bucco Bruce Arians. He's the guy who now watches Bucs games with a cold drink and a pretzel — and a hat on his head without a headset draped over it.
Team Glazer is paying a brilliant offensive mind millions to be disengaged on gameday. Joe thinks that's a crime against Bucs fans, and a weaksauce decision driven by egos and not good sense.
(Joe talked about this in August — in depth — on the Ira Kaufman Podcast, so this isn't a fresh take.)
Joe believes Byron Leftwich calls the plays and has through his tenure as Bucs offensive coordinator. But Arians was an influencer, certainly on game days. For some reason, however, someone decided it was a good idea to pull the plug on Arians when the ball kicks off.
It's almost ridiculous considering Arians' knowledge of the personnel and the fact he attends practice.
What's the harm in having him listen in and pick a spot or two each game to say, 'Hey, Byron …?' That's exactly what Arians did previously.
Of course, Joe isn't typing this after a Week 6 game if the Bucs offense hadn't taken a giant step backwards this season. But reality says there's been a significant decline in the passing game, running game, short-yardage game and red-zone game.
The men in charge should put a headset on Arians. They can always pull the plug after a week.
What do they have to lose? Whose feelings are they afraid to hurt?