Ira Kaufman's 10 Takeaways From Bucs-Steelers
October 17th, 2022
BY IRA KAUFMAN
They never led, not for a single second.
They never played with any enthusiasm, not for a single second.
The only passionate moment for the Bucs in Sunday's travesty came when Tom Brady reamed out his offensive line late in the opening half. He should have tossed a tablet instead because the guy under center wasn't playing any better than the guys up front.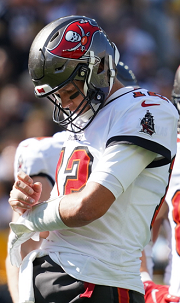 While the Buc defense faltered in the final moments, the Steelers went nowhere for most of the afternoon. After marching 66 yards on their opening drive, the Steelers spent the rest of the half gaining 38 yards.
And they STILL led at intermission.
For the sixth time in six games, Tampa Bay could not find the end zone in an opening quarter. The red zone is a black hole and the Bucs just went 4-for-14 on third down against a defense missing T.J. Watt, Minkah Fitzpatrick and three cornerbacks.
This was one of the worst losses of the Tom Brady era in Tampa. Given the quality of the opposition, it may have been the worst. Pittsburgh is not a good team, even when healthy. But the outmanned Steelers relied on hustle, better coaching and yes, better quarterback play, to engineer a mammoth upset.
The Buc ground game lived up to its reputation. In other words, it stunk. Brady's protection broke down more than usual and when Brady had time, his throws were often erratic.
Facing a beaten-up secondary, Byron Leftwich forgot to test Pittsburgh downfield. If Mike Evans wasn't such a good teammate, he probably would have had to be separated from Leftwich on the team charter back to Tampa.
Sunday's result reflected poorly on Todd Bowles and his coaching staff. The Bucs knew Mike Tomlin would have the Steelers ready to play after last week's embarrassing effort at Buffalo, but Tampa Bay didn't match Pittsburgh's energy.
It's early in the season, but it's not too early for the Glazers to wonder about the direction of this franchise. Brady is cutting corners and Bowles may be cutting his players too much slack.
A 3-3 record and a share of first place in the NFC South may not trigger alarm bells, but there are some troubling issues at One Buc Place.
Most of the problems are on offense, where the Bucs are averaging 20 points per game. Want some perspective? A Tom Brady-led attack is being outscored by the Jets and Giants. The Jaguars have more points — and so do the Falcons. Yes, Marcus Mariota presides over a more productive attack than Brady.
Yikes.
Here's how the Steelers shocked the lethargic visitors on a Sunday Buc fans will try to forget.
* Prayers go out to Cameron Brate as he deals with yet another serious injury.
* Leonard Fournette averaged 3.0 yards per carry. Rookie Rachaad White could do no better, matching Fournette at 3.0 yards per carry. The revamped interior of this offensive line isn't getting much push.
* Stop dreaming about Rob Gronkowski's return. Not happening.
* Lavonte David roamed sideline to sideline, registering 13 tackles, and Jamel Dean played a strong game. Dean's hustle on an 89-yard kickoff return saved four points.
* Mitch Trubisky replaced an injured Kenny Pickett and looked like Ben Roethlisberger in his prime, completing 9-of-12 passes for 144 yards. Trubisky frustrated the Bucs by converting several third-and-long situations en route to a 142.4 passer rating.
* Raise your hand if you've seen the Bucs try a screen pass or a draw. You can put your hands down now.
* Hope Brady had a great time at Robert Kraft's wedding. What's it going to be this week — a bar mitzvah?
* Brady and Chris Godwin are struggling to recapture their previous chemistry. There were some forced passes while Evans patiently awaited his turn. He's still waiting.
* Up next is a matchup at Carolina, where the 1-5 Panthers are saddled with the worst record in the league. Ordinarily, this should be a gimme, a midnight run, but given the way Tampa Bay is playing, Buc Nation would be thrilled with a 17-16 triumph.
* Still think Bruce Arians was simply along for the ride the past two years?