The Passing Bucs
October 4th, 2022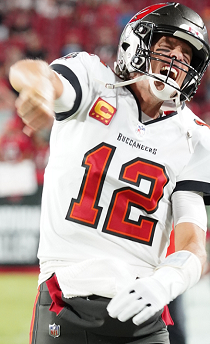 The throw-throw-throw Bucs of 2020 and 2021 haven't strayed too far from their identity when you look at leaguewide 2022 NFL numbers through four games for every team.
Tom Brady ranks seventh in pass attempts and eighth in total yards. He led the league last season in both categories. So yeah, the Bucs are running more, but it's not like they've flipped the script of the offense.
As regular readers know, Joe is in the throw-more camp. First, the offensive line's strength is pass blocking, even with newcomers. Second, the Bucs have a receiving corps most teams dream of having. Third, Tom Brady has the arm talent and the smarts.
Joe is very curious to see Sunday's plan of attack against Atlanta and its questionable defense. Pass defense is not Atlanta's strength, though they have a couple of opportunistic cornerbacks and defensive tackle Grady Jarrett has been a terror through many double teams with 3 1/2 sacks.
Will the Bucs come out firing?
Leonard Fournette has looked so comfortable out of the backfied this season, and he's been pass blocking well except for one horror show snap on Sunday.
Plus, based on Todd Bowles' comments yesterday afternoon on SiriusXM NFL Radio, it seems all Bucs receivers came out of the game healthy. Yes, all of them. Bowles said only Logan Ryan (foot) and Cameron Brate (concussion) were a concern following evaluation.
Man, Joe would be so soothed by the Bucs jumping on the Falcons with the passing game and forcing Marcus Mariota to throw. That's a beautiful blowout recipe.