Leonard Fournette's Three Runs
October 4th, 2022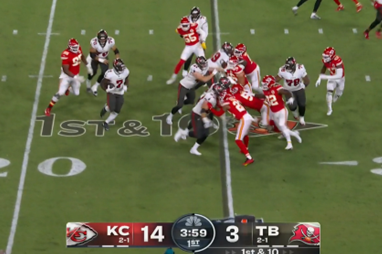 Leonard "Lombardi Lenny" Fournette had three rushes for -3 yards on Sunday night, so hey, how about a deep dive into all three.
They all came early in the first quarter. On the first carry, the Bucs' first snap on offense, Fournette hammered a hole between right guard Shaq Mason and Tristan Wirfs for 3 1/2 yards.
Next up was rookie tight end Cade Otton getting beat in a hurry and Fournette getting swallowed up on the backfield for a four-yard loss on the same opening drive.
The Bucs' second possession brought run No. 3 on first down (screen shot above), Fournette had the edge but opted to slow down and look for room inside. Otton got blown up — while fellow rookie tight end Ko Kieft held his ground — and Fournette was tackled for a two-yard loss. Joe's puts that one on Lenny. He had the edge.
And that's it.
The Bucs essentially abandoned the running game and Fournette finished the game with seven catches for 57 yards, including a touchdown through the air.
The Bucs moved the ball and scored on their opening drive, so Joe can't say the runs were bad options there. Lombardi Lenny's final run, the two-yard loss, was not overcome, and helped spark a 3-and-out.