"I Don't Know What's Missing"
October 24th, 2022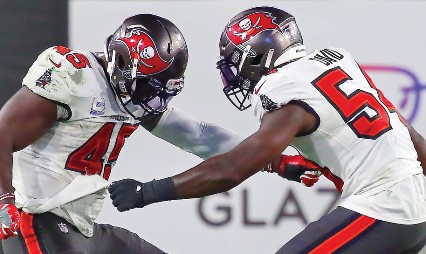 Tony Dungy is disturbed by the Buccaneers defense, and that's nothing new. It's also alarming since Father Dungy is a defense-first guy and has been a big Todd Bowles supporter.
Speaking before the nation on the Sunday Night Football studio show last night, Father Dungy expressed his disbelief of how poor the Bucs run defense has been and how far its fallen from being an elite unit in 2019 and 2020, and very good in 2021.
"I don't know what's missing," Dungy lamented. "This is a team you couldn't run the ball on for years."
Joe concurs.
Yesterday against Carolina, even if you strip away the 60-yard run by D'onta Foreman, the weaksauce Panthers still had a strong ground game. That's unthinkable considering they were being quarterbacked by a fourth-stringer and the Bucs could have keyed to stop the run, and certainly did.
The Panthers had 173 yards rushing on 27 carries.
Todd Bowles is going to need on strong shovel to dig the Bucs out of the ditch they've fallen into.