Five Things
October 28th, 2022
---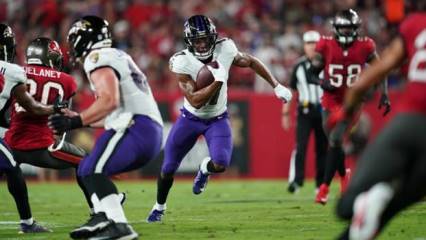 What a dreadful night last night. And it may be a dreadful morning today for a Bucs coach. So let's not waste any time.
Joe will work until 5 a.m. this morning banging out copy for this here site. That's typical after a night game. So Joe will sleep in this morning.
When Joe wakes, if Bucs coach Todd Bowles has any self-respect, failed Bucs offensive coordinator Byron Leftwich better have his office cleaned out and his One Buc Palace access card deactivated.
Joe doesn't want to hear about Ryan Jensen being hurt or Luke Goedeke being a rookie, therefore the Bucs cannot run the ball. BULLS(P)IT!!! Look around the league and try to tell Joe the Bucs have the worst offensive line in the NFL. That is just nonsense by any objective standard.
Good coaches find a way. You think Seattle has better talent on offense than the Bucs? Pete Carroll has found a way to put lesser players in positions to make plays and score points.
That's what good coaches do.
You really believe the Bears have better talent on their offensive line? Bears fans want to jump off the Hancock Tower into Lake Michigan in the middle of October (which is very cold in the Second City) the Bears' offensive line is so rotten, yet the Bears have a better rushing offense than the Bucs. The Bears!
Joe could go on and on through the NFL standings. Competent coaches find a way. Do you really believe after eight games Leftwich can find a way? He's calling the same plays over and over and over again and expecting different results. You know what that is called, right?
If Leftwich could fix this offense he would have fixed it by now.
Last night after the game, Bowles said coaching changes are on the table. The first move and the no-brainer move is to send Leftwich packing. Enough is enough with this guy.
There is no way the Bucs salvage this season with Leftwich calling the shots on offense. It ain't gonna happen.
To be fair, Joe may be willing to give Leftwich a pass for his wretched irresponsible gameplan against the Steelers if the following is true: Leftwich refused to attack the ravaged Steelers secondary because Tom Brady's "little rotator cuff" isn't so little. Joe has no idea if that's accurate. However, after watching Brady last night, it might be.
Of course, if Brady couldn't physically throw against a practice squad secondary like the Steelers had, then why wasn't Blaine Gabbert in the game? So yeah, it still comes back to Leftwich doing a horrible job. And Brady threw for 325 yards last night.
Ravens vs. Zyon McCollum
Man, last night the Crows picked at rookie cornerback Zyon McCollum more than a three-year old picks his nose.
The Crows threw 30 times in the first half. And many were targeted at McCollum on the right side of the offense. McCollum actually had a pass defensed and four tackles.
The contrast between veteran Baltimore offensive coordinator Greg Roman and Bucs failing offensive coordinator Byron Leftwich was stark.
Roman saw weaknesses (see below) and was aggressive in attacking them. Leftwich ignored soft targets (tonight and in Pittsburgh).
Joe has to give McCollum props. He sure bent, but he didn't break. When the Crows and Lamar Jackson finished the first half with 30 passes, McCollum was still standing and the Bucs led 10-3.
McCollum gave up his fair share of completions. But at the end of the day it is about points. The Bucs led when Baltimore finished its artillery barrage at McCollum.
Devin White Not Playing Like A No. 5 Overall Pick
Right now Joe doesn't think there is any way to spin it. Bucs inside linebacker Devin White is not playing up to his hype. Last night if the Crows weren't picking on Zyon McCollum on the right side, they were going after White.
White gets peeved whenever someone brings up his (ahem) uneven pass defense. But there is a reason Sean Payton used to target him. And there is a reason John Harbaugh targeted him. These two coaches didn't just fall off the turnip truck.
White is one of those Bucs living off his spectacular 2020 postseason. People, including Joe, have been hoping and praying White would duplicate that fantastic run. We're still waiting.
White can sure rush the passer. But aside from that, he is best known for overrunning plays, mistackling high, and getting shamed in pass defense. He's damn near a liability.
Right now White is playing like Kwon Alexander II. A lot of woofing. A lot of trying to break a guy in half. A whole of mistackles as well as ample plays in botched pass defense.
White hasn't earned becoming a top-paid linebacker (yet).
Pay Jamel Dean
Jamel Dean has balled out this season, his contract year. He's become one of the better corners in the NFL. If the Bucs have to spend a wheelbarrow full of Team Glazer loot at a young defender, it ought to be Dean.
Joe doesn't know where this team would be without Dean. Dee Delaney is way too inconsistent to be a starter. Joe isn't sure McCollum is ready for full-time duty. The Bucs need to keep Dean.
Ryan Jensen Update
Joe understands there was a national report from an NFL stenographer recently claiming the Bucs expect veteran Pro Bowl center Ryan Jensen back sooner than expected this season. Joe cannot get that confirmed (or denied), but Joe did hear unsubstantiated whispers last night that Jensen ain't close.
Here is what Joe can tell you: Joe saw Jensen leave the locker room after the loss to the Dixie Chicks three weeks ago wearing no knee brace and walking with a slight limp.  Last night, Joe saw Jensen walk out of the Bucs locker room wearing a knee brace and walking with a noticeable limp (though that was likely caused by wearing the brace).
The optics don't appear to show Jensen making that much headway of late.