Eighth-Best NFL Punt Returner Is Jaelon Darden
October 11th, 2022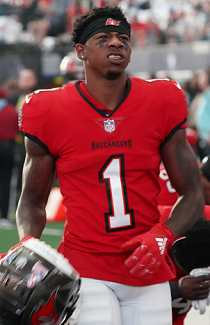 Damn, Joe is proud of the obvious improvement of Jaelon Darden on fourth downs.
Quietly, Darden ranks tied for eighth among NFL punt returns who have four or more returns this season, aka full-time returners.
His average of 11.1 yards per return is stellar. Most teams give returners of goal of 10 yards per return.
On Sunday, Darden had a sneaky good 24-yard return that showed strong vision and patience from deep in Bucs territory. His other return was a shifty 16-yarder.
Former Bucs return man Adam Humphries had a strong 2016 season at 9.9 yards per punt return, but his production as a returner fell off the next two years. Jaydon Mickens, Kenjon Barner and Antonio Brown combined to average 5.9 yards per punt return for the Bucs in 2020, and Darden was poor at 7 1/2 yards last season.
Enjoy The Ira Kaufman Podcast, presented by Bill Currie Ford. Ira Dives Into The Win Over The Falcons And What It All Means.