Tom Brady Doesn't Get Roughing The Passer Calls And He Wants You To Know It
October 11th, 2022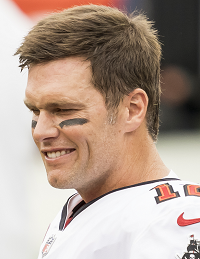 Joe often has written and said that Tom Brady is the ultimate calculated communicator.
Nothing is random when Brady is in front of the media.
That brings Joe to Brady's weekly Let's Go! show on SiriusXM Mad Dog Radio.
Joe is a loyal listener to the pre-recorded affair, and last night host Jim Gray rolled out a bunch of stats when asking Brady about Sunday's controversial roughing-the-passer penalty on Falcons defensive tackle Grady Jarrett.
Keep in mind this isn't the kind of data easily found on Google or at Pro Football Reference.
Grady told Brady he drew one roughing the passer call in 2021 and none in 2019, his final year in New England. And Gray said since joining the Bucs, Brady ranks 16th in the NFL when it comes to benefiting from roughing the passer penalties.
But Gray wasn't finished. He said since 2010, roughing was called 2.1 percent of the time Brady is sacked, among the lowest rates for NFL quarterbacks.
The goal was clear. Gray was set up to implode the exploding national narrative that Brady gets all the calls and is protected by NFL officials. Gray did the talking and Brady, right on cue, downplayed the whole thing by saying he doesn't throw the flags, he only throws tablets.
The men executed the script well.
Joe laid out more evidence yesterday that Brady got screwed on a shot to the face by Von Miller that left him bloody during January's playoff game. No foul called.
Regardless, many will claim the refs go easy on Brady, which is ridiculous. And Brady wants you to know it.
The team Tom Brady is playing against has benefited from roughing the passer calls more than he has (61 total for Brady in his 368 starts, 71 for his opponents)

Source: @pfref pic.twitter.com/8fLapg1hQZ

— Tom Brady Facts (@TB_Facts) October 11, 2022