Challenging Start For Carlton Davis
October 7th, 2022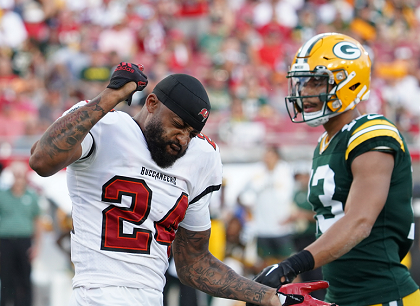 With stud Falcons tight end Kyle Pitts out injured on Sunday along with versatile running back/receiver Cordarrelle Patterson, Joe is very curious to see how the Bucs defend the Falcons' remaining big-time weapon.
No, that's not Marcus Mariota.
Joe's referring to rookie first-round pick receiver Drake London. He's a big dude who can beat you multiple ways. Joe has been impressed by the guy, who looks a little like Mike Evans.
Bucs No. 1 cornerback Carlton Davis is available to shadow London, but might the Bucs put cornerback Jamel Dean on him instead?
Dean is a little bigger than Davis and a little faster, and he seems to be having a slightly better season.
Davis has two official passes defensed and no interceptions this season. Joe's friend D. Orlando Ledbetter of the Atlanta Journal-Constitution sees a Davis-London matchup as a key to the game.
Ledbetter also notes that offenses have been successful when targeting Davis.
Falcons WR Drake London vs. Bucs CB Carlton Davis: With tight end Kyle Pitts off to a slow start and slowed by a hamstring, the rookie London will be the focal point of the passing attack. He has caught 18 of 32 targets for 231 yards and two touchdowns. Davis has given up 21 completions on 35 targets (60%) for 298 yards this season.
Joe is not slapping Davis around here. He was an important piece of the Bucs' superior defense before last Sunday's meltdown.
Still, against Atlanta and Mariota is the perfect time for Davis to rise up, play well and find his first interception of the season.