28 Targets To Mike Evans And Chris Godwin
October 23rd, 2022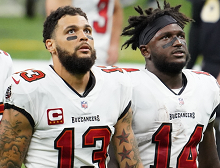 So the Bucs pounded the ball into stud receivers Chris Godwin and Mike Evans today and still couldn't score a touchdown.
As Joe has written through the years, nobody writes a soap-opera script quite like our beloved Buccaneers.
Last week, Evans had five targets, with one wiped out of the official record by a defensive holding call. It was an inexcusable total against a garbage Steelers secondary. So of course, the Bucs were going to come back today and pump the ball into Evans.
Evans had 15 targets against the Panthers today and caught nine balls for 96 yards, and he dropped what would have been roughly a 65-yard touchdown catch on the opening series. Godwin got 13 targets but caught only 7 balls for 43 yards.
That was the most targets in the regular season for Evans since 2019 (he had 16 in the playoffs loss to the Rams last season). It also was Godwin's busiest day of the season.
So the Bucs kept their big guns busy and still were impotent. That sure makes finding a fix a lot more complicated for Todd Bowles and Byron Leftwich.