"We've Done Our Offense A Disservice"
September 26th, 2022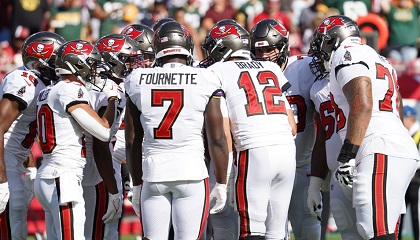 Our beloved Buccaneers coughed up the football and lost it twice yesterday in Green Bay territory and lost it.
Nobody is happy about that at One Buc Palace, but it's also a reason to believe the Bucs' offensive issues aren't as ugly as they seem.
Tom Brady talked about the woes of his side of the football on Let's Go! on SiriusXM Mad Dog Radio.
He seemed to have a naughty list in hand: not enough yards in the run game, bad converting on third down, trouble with red area success. And then he went to two causes.
"Between our turnovers and our penalties, we've done our offense a disservice," Brady said.
Yeah, The Goat still takes losing very hard.
"You put a lot into winning, and when you lose, you feel like it was all for naught," said Brady, adding that the Bucs must turn losing into a positive experience.
"I've always said. You either win or you learn," Brady said.
The goal is simple Brady said, "Become a consistently dependable high-scoring offense." He added that two-point conversions are "insignificant on the call sheet until they become the most important play of the game."