Buccaneers Planning Trip To Miami For Practices
September 26th, 2022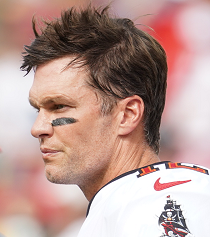 It's not official yet, but Tom Brady was talking about it tonight on his Let's Go! show on SiriusXM Mad Dog Radio.
The Bucs are heading to Miami.
Brady said the team will be practicing in Miami all week and hoping to be able to return for Sunday night's game against the Kansas City Chiefs at The Licht House.
The reason is obvious: Hurricane Ian.
Brady even sounded like a regular guy for a minute talking about securing outdoor items at his Tampa home. Joe presumes Brady is still renting on Davis Islands (not Derek Jeter's house).
The reason the Bucs are leaving is absolutely awful, but Joe suspects it'll be great bonding for the roster. When the Bucs left Tampa for five days in August — to practice and play against Tennessee — Brady was not with the team.
Considering evacuations have been ordered in many low-lying and not-so-low-lying areas in Hillsborough and Pinellas Counties, Joe assumes the Bucs have made arrangements for families to travel with the players.