True Heroism At Left Tackle
September 18th, 2022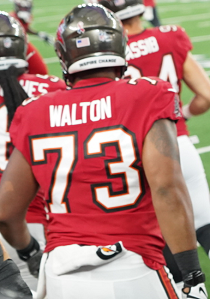 It's not lost on Joe that the Bucs won today while playing most of this game with a third-string left tackle getting his first meaningful NFL action, a rookie left guard and a center making his second career start.
That's often the stuff blowout losses are made of.
Instead, the Bucs had little trouble pass blocking for Tom Brady, who endured just three quarterback hits from a stout and talented Saints defense.
Left tackle Brandon Walton entered the game after backup left tackle Josh Wells left early with a calf injury. Walton, an undrafted free agent in 2020, stepped in and thrived. He had help, but he was more than solid against a violent Saints front.
It was Walton's first offensive snaps in a regular season.
What a credit to the Bucs coaching staff, which continues to have mindblowing success. For those who like perspective, the Bucs are riding a run of 24 wins against 5 losses.
Historic stuff.