Tom Brady Says Ring Finger On His Throwing Hand Will Be Sore All Week
September 19th, 2022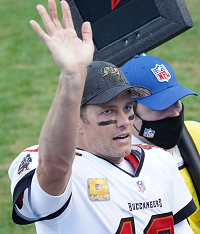 TV cameras caught Tom Brady pulling/adjusting his right ring finger yesterday early in the game and on the sidelines.
This evening, Brady addressed what happened.
The Goat talked about it on Let's Go, his weekly show on SiriusXM Mad Dog Radio.
"I banged it up pretty good," Brady said of his finger. "But, you know, it didn't affect me at all in the game. It's just going to be sore throughout the week. One of those bumps and bruises that come along with playing, different things, you get kicked, you get kneed and all these things come up. It's demolition derby out there. It's who can recover fast enough in order to put yourself in a position to practice, prepare and then go play well the next week."
It's great to hear Brady say the banged up finger didn't affect him. But can anyone believe Brady here? The guy has covered up a lot of injuries in his career.
Also, it's a little interesting to Joe that Brady referenced how it's important for a player to recover so he can practice, yet Brady is talking off Wednesdays all season. There were several weeks last season when Brady didn't miss a practice.
Regardless, that banged up hand of Brady's threw a dagger of a touchdown strike to Breshad Perriman to beat the slimy Saints. The Bucs are 2-0 and are the standout bullies of the NFC.