Tom Brady Calls Mike Evans Suspension "Ridiculous"
September 19th, 2022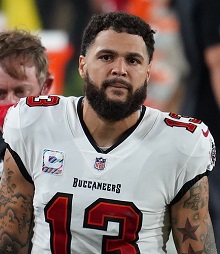 The Mike Evans running, dead-ball blast to Saints cornerback Marshon Lattimore during yesterday's game earned Evans a one-game suspension.
Tom Brady reacted to the news tonight.
Brady opened up on his Let's Go! show on SiriusXM Mad Dog Radio and spoke about football being an emotional game. He said there were many players involved in what led to the Lattimore-Evans altercation and Brady said he has a problem with Evans being "singled out.' Brady referred to that as "the reality of the NFL."
"I love Mike," Brady said. "And the fact that Mike would come out there to defend me, it means everything in the world to me as a teammate and a friend. And Mike knows how I feel about him. So, in the end emotions are a part of sports. Sometimes they boil over and they obviously did yesterday. And it's an unfortunate circumstance. I don't think it deserved any type of suspension. I think that's ridiculous. You know hopefully we can move past it, get to a better place.

"You know in the end, I appreciate Mike having my back. I know he'll learn from it. And he knows that we all have is back."
Joe appreciates calling the suspension "ridiculous," but it certainly was justified. Lattimore not getting suspended, Joe will call that ridiculous.