"Tom Brady Is Licking His Chops"
September 10th, 2022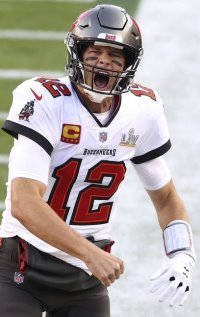 A former Bucs receiver who never hesitates to be critical of his beloved Bucs is all fired up about how dominant the Tampa Bay offense should be in 2022.
Joe's referring to blocking icon Michael Clayton, who was a rookie sensation in 2004 and the was a late-summer cut in 2010, before he won a Super Bowl ring with the Giants.
Clayton thinks the Bucs are a better team this season than the 13-4 group that rolled in 2021.
"I think that we are a more polished group in terms of character and integrity [at wide receiver], in terms of football fundamentals, and we're a better team this year than we were last year based upon the [roster]," Clayton said on WDAE radio.

"[Russell] Gage comes in and he's very hungry to show himself, to prove, to work to get some opportunities. We've always needed that third receiver and now we have two guys [at No. 3] capable of being No. 1 and No. 2 receivers. So we got a lot of depth, a lot of character guys at the position. We should have no problem this year, and I know Tom Brady is licking his chops at the weapons that he's going to be able to see on the football field."
Clayton went on to say what Joe said on the Ira Kaufman Podcast: Chris Godwin should play immediately if his surgically-repaired knee is cleared, as long as he can go 100 percent, even if that's just 10 plays. Clayton doesn't want Godwin to risk getting hurt playing at less than full strength.
As for Julio, Clayton believes he'll look like the same player he always was except he'll have more 1-on-1 opportunities than ever before. He believes Julio will be targeted early and often on Sunday as Tom Brady pushes Julio to win those 1-on-1 matchups.
---
Ira Talks Chris Godwin Plan, Tennessee Chatter On Julio Jones, Special Teams Realities, Saints Hype, Tom Brady Spin, Week 1 Expectations & Picks, And More