"A Very Susceptible Position"
September 10th, 2022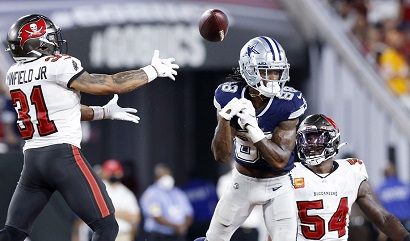 A student of the NFC East and a brother of a Bucs legend sees a glorious Buccaneers win on Sunday night against the defending NFC East champion Cowboys.
Retired Giants Pro Bowl running back Tiki Barber joins his famous Bucs brother Rondé every week on a gambling show run by Vegas-based SuperBook Sports. The Barber brothers make picks and often disagree. This week, they're in lock step for different reasons.
Rondé is very focused on the Bucs rolling because he thinks they improved in free agency and the draft, and he because the Dallas offense won't be able to keep up with the Bucs' 30-points-per-game machine.
He loves Cowboys game-wrecker linebacker Micah Parsons, but Rondé doesn't think Parsons will be able to do enough wrecking to keep the Bucs' points total down.
Joe was more interested in what Tiki had to say since Rondé has become such a Bucs homer as their preseason TV analyst.
Tiki Barber says it's overlooked how Cowboys head coach Mike McCarthy is entering the season on the hot seat, and there's a ton of pressure on the Dallas offense yet they're down weapons. Dallas will neither handle the pressure nor the Tampa Bay run defense, Tiki believes, leaving them in "a very susceptible position" to get overwhelmed by the Bucs.
Joe agrees with Tiki on various fronts. And in a tight fourth-quarter game, Joe would pick Tom Brady over Dak Prescott, but certainly with a Dallas team under the microscope before the opening whistle.