Tom Brady Demands Scouting Review With Player Personnel Department
September 1st, 2022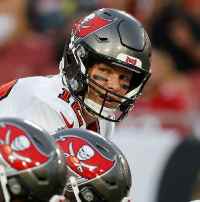 One of the more interesting nuggets revealed by Bucco Bruce Arians during his visit to Barstool Sports this week was a take on Tom Brady.
When Brady faces an opponent, per Arians, he doesn't just watch film and work with coaches on an attack plan, he's sitting down with members of the Bucs' pro personnel department and poring over current scouting reports on defensive backs.
The chatter came when Arians was trying to describe to the Pardon My Take crew Brady's obsession with information to help him succeed.
Imagine breaking down film alone and with a team of seasoned coaches, and seeing film reports from your offensive coordinator, and then still demanding a sitdown with player personnel chief John Spytek to review scouting data. (Yes, Arians specifically mentioned Spytek.)
Wild stuff.
---
Ira Kaufman Talks Bruce Arians Tour, Tyler Johnson Shock, Overall Roster Calls, One Worry-Inducing Player, Cornerback Evaluation, And More