Todd Bowles Details Why Sean Murphy-Bunting Didn't Play Defense Against Dallas
September 14th, 2022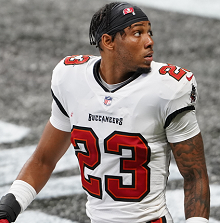 So why exactly did Sean Murphy-Bunting live on the bench Sunday night?
He's a fan favorite, a Super Bowl-season hero, a 2019 second-round pick, and a healthy and capable player.
Todd Bowles dove in deep with an answer on the Buccaneers Radio Network yesterday. Simply stated: it's because Murphy-Bunting isn't versatile enough.
"I like the three-corner look with a corner that can play some safety. We have big plans for Sean to be back there and do some things. In this game it required three safeties, with Winfield being one, Logan [Ryan] being the other and Mike [Edwards] being the other one. But all three are interchangeable," Bowles explained. "They all can play nickel. They all can play strong [safety]. They all can play free [safety]. So that gives us different latitude to do a lot of disguising, a lot of different pressures, without changing the people. Because they all know all three spots. And we haven't gotten into that yet. It gives you more leverage as far as doing things. And I think that's important."
Joe will say that speaks to how much trust Bowles has in Ryan. The dude knows three positions in a complex defense before ever playing in a real game.
Also, as many fans know, Murphy-Bunting lost his starting job to fellow 2019 draft pick Jamel Dean. Murphy-Bunting has plenty of experience at nickel, but it's clear that if the Bucs stay healthy, it'll be hard for him to get on the field.
Joe's happy for Bowles. He must feel like a mad scientist with three safeties who are interchangeable at three positions. On Sunday, it was Edwards' blitz up the gut that freed up Devin White for his first sack.