The Rob Gronkowski Loss Is Glaring
September 19th, 2022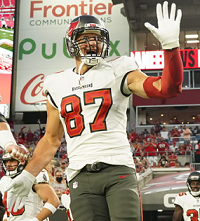 Through two games, Bucs tight ends have amassed 3 catches for 20 yards on 8 targets.
It's hard to get much worse than that. Lead-dog tight end Cameron Brate is nowhere near the player he was in his prime. Kyle Rudolph can't get on the field, and rookie blocking tight end Ko Kieft had a stone-hands moment with his first target of the season on Sunday. Fellow rookie Cade Otton has one catch for four yards.
All of a sudden, departed O.J. Howard looks like an explosive option, except he plays for the Texans.
The Bucs invested a ton of money into tight ends in 2020 and 2021 with Rob Gronkowski, Brate and Howard. That was done for a reason: Tom Brady not only relies on a tight end, he's most comfortable when he has that option.
Yeah, Joe realizes anything the Tampa Bay offense does (or doesn't do) against the Saints comes with an asterisk, since Brady and offensive coordinator Byron Leftwich have yet to figure out the puzzle of the Saints defense. But the ineffective tight end play appears to be more than just the Saints and Cowboys playing great defense.
Gronk's agent, oily Drew Rosenhaus, has said multiple times that he thinks Gronk would embrace a return to the Bucs if he got a phone call from Tom Brady with an urging plea.
Joe suspects that phone call isn't too many weeks away.