How Angry At Jameis Winston Was The Bucs Defense?
September 19th, 2022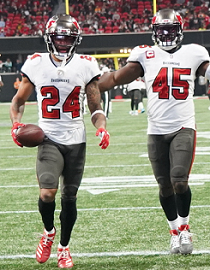 After Sunday's rant by Devin White, it sure seems like the Buccaneers' defense was a bitter crew when it came to how Jameis Winston gave the ball away like mini-Snickers on Halloween during the 2019 season, his last in Tampa.
Joe couldn't blame defensive players for being demoralized by how Jameis tossed 30 interceptions that year, before the Bucs didn't welcome him back for 2020. The defense too often was jolted back onto the field by all those turnovers, many of which proved costly.
Yeah, 30 picks is that bad in the modern era. Consider that only one other quarterback has thrown more than 20 since 2017. That would be DeShone Kizer, who is 26 years old and an unemployed in the NFL.
After Jameis threw three interceptions to the Bucs yesterday, a glorious stroke of irony, White spoke up after the game on the FOX broadcast.
Joe can't capture White's tone of voice, but Joe certainly can bring fans the words.
"I mean when Jameis left our team, everybody know what he did that last year," White said. "And we feel like we had a great defense then and, you know, he threw 30 picks. You know, and we just knew he would give us the ball [Sunday]. We knew the running backs, you know, cough it up. You know, that's something we came in talking about. We want 30 turnovers as a ballclub ourselves. So it just was another game to to attack the ball."
Video of White's chatter can be seen below.
It reminded Joe of old school Bucs like Warren Sapp talking about how the Bucs would have one multiple Super Bowls in the Father Dungy era if they had quality quarterback play.
Players are always seeking motivation, an edge to fire them up, even if it's manufactured. It smells to Joe like White was leading a charge of payback on Jameis for how those 30 picks he threw a few years ago led to the defense being overlooked, overworked and underappreciated.
White's rant also jibed with Jamel Dean's comment last week about Jameis not being a very responsible QB during the 2019 season. And it even meshed a bit with Jameis himself telling the Truss Levelz podcast that his mindset wasn't focused enough on winning during his Tampa days.
Devin White on Jameis Winston: "When Jameis left our team, everybody knows what he did that last year," "He threw 30 picks."

"We just knew he was going to give us the ball."

Winston threw 3 INTs and had a pick-6 today in the 4th quarter. (@JCAllenNFL)pic.twitter.com/1LdBQeNIo2

— Dov Kleiman (@NFL_DovKleiman) September 18, 2022