Ric Flair Has Mike Evans' Back
September 19th, 2022
Now Marshon Lattimore has done it. Now he's done gone and got "The Nature Boy" peeved.
We all saw the hassle yesterday that Joe is convinced was sparked by a non-call by the usual flag-happy officiating crew led by Shawn Hochuli. Mouthy Lattimore actively blocked out Scotty Miller from making a play on a ball he likely would have caught on third down early in the fourth quarter.
That's when Lattimore went to the Bucs bench and started woofing, which led to Brady telling him to buzz off (Joe is confident the vernacular was much stronger). And before you know it, Playoff Lenny and Mike Evans were brawling with that Urban Meyer-trained bag of feces.
Then all hell broke loose.
It was like right out of NWA wrestling from one of its Atlanta WTBS weekend afternoon broadcasts: Where Sting went after one of the Four Horsemen in street clothes and a melee erupted.
Well, guess who has Evans' back? That would be none other than the most famous of the Four Horsemen, "The Nature Boy," Ric Flair.
Flair took to Twitter after the game and gave a shoutout to Evans for defending his teammates.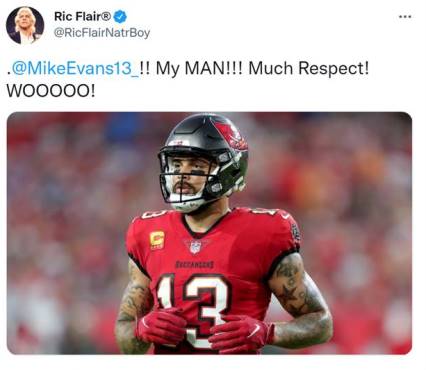 So there you go, Lattimore. Now you've got to tangle with Flair. Good luck. And guess who Flair hangs with? Mike Tyson.
Lattimore, you are on the wrong side of history. You done effed up.
Nick Saban right now #RollTide pic.twitter.com/cFNrygrdo6

— No Context Flair (@NoContextFlair) September 10, 2022