The Leonard Fournette Hamstring Injury
September 15th, 2022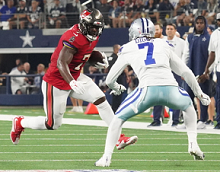 Bucs fans saw it play out Sunday night with just over 11 minutes remaining in the game.
Leonard Fournette ran left as guards Luke Goedeke and Shaq Mason pulled in that direction and opened major holes. The play led announcer Cris Collinsworth to call it "a mauling," referring to the all-night job of run blocking done by the Bucs in Dallas.
Then at the end of the 14-yard run, Fournette pulled up lame out of bounds and was seen doing that hamstring hop that many players do when the muscle is injured. He left the game and did not return.
The game was nearly out of reach and the injury didn't get much attention on the broadcast. Playoff Lenny also was a happy guy in the locker room and Joe talked to him then. And then Fournette appeared on yesterday's injury report after being "limited" in practice.
Joe is bummed out by the many injuries that appeared among Bucs receivers but not too worried. That includes the hamstring issues of Chris Godwin and Russell Gage, and knee problems for Julio Jones and Breshad Perriman. The Bucs will find enough healthy bodies at receiver and Scotty Miller can help off the bench. But Playoff Lenny is not replaceable.
A Week 1 hamstring injury for Fournette has to be handled perfectly for a long season. Hamstrings can be unpredictable, and Fournette certainly isn't a typical body type. He also blew a hamstring late last season and missed games — even on TV.
Joe is praying to the football gods for the Bucs to have just the right touch with Fournette, who Joe hopes isn't too eager to say "I'm good," so he can play against his hometown Saints.