Sleepy Lenny
September 6th, 2022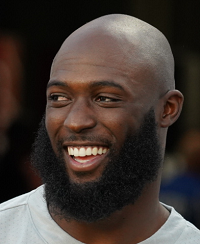 This story from Leonard Fournette served as a reminder of in-person disagreements Joe's had with Bucs coaches and executives through 14-plus years covering the team.
Joe has always maintained that hardcore fans care more about the Bucs than players, coaches and suits. That statement seems to infuriate the Bucs types. They typically maintain it's impossible and dammit Joe, you don't understand the commitment at One Buc Palace, you A-hole.
Joe always counters by stating true fans would never abandon the team, and legions spend money on the club that they simply can't afford. Few if any at One Buc Palace can say that, Joe believes. Mr. Coach, executive, player would run to a new team in a heartbeat when his/her big-money job expires. Heck, he/she might even try to negotiate a new deal out of town during football season.
It's a fun argument.
Enter Leonard "Lombardi Lenny" Fournette and his chat on Bussin' With The Boys last month.
Fournette told the hosts that he didn't watch the critical Bucs-Jets game in January, a key fourth-quarter comeback for Tampa Bay that featured the Antonio Brown meltdown.
That's right, Fournette didn't watch it. Lombardi Lenny said he was sleeping and if you have an issue with that, call his doctor who prescribed lots of rest for his then-bad hamstring.
And Lombardi Lenny gave another reason he didn't watch. "Because we're playing the Jets."
Don't misunderstand. Joe doesn't think less of Fournette and he's one of Joe's favorite Bucs. This story just illustrates fans and players often operate in very different worlds.