Jameis Winston Wishes He Took Tampa Bay To Tom Brady's Super Bowl
September 15th, 2022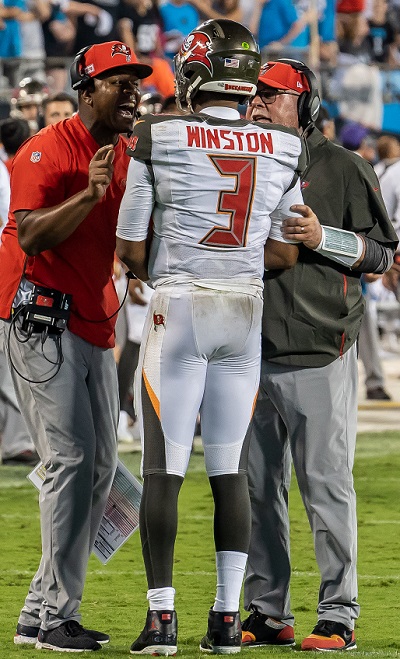 Our beloved Buccaneers head to New Orleans on Sunday and they'll face a quarterback who still kind of wishes he was Tampa Bay's go-to guy.
Sure, Jameis Winston loves his Saints teammates and is happy and grateful to be starting for a team he watched as a kid in Alabama, but pain from the Bucs not wanting him is still a fresh memory.
Jameis sat down for the Truss Levelz podcast early this month and opened up a bit on his Tampa time.
"I never disrespect my teammates. I love my teammates, but I wish I could have took [the Bucs] to that level that happened the next year. Like I still get motivated by that. … That's something that I wanted to build, and it to see it happen it made me really more hungry."
Jameis went on to say being replaced by Tom Brady had him soul-searching. "But to see who made it happen, I was just like, 'Ok, Lord, I gotta wait.' But I'm still hunting," Jameis said.
Interestingly, Jameis said all the tough times in Tampa and realizing that his mind might not have been where it needed to be has him more laser focused now on winning.
"Them losses [in Tampa] taught me more about me than I ever really understood in my life," Jameis said.
Joe just hopes Jameis' burning desire to beat the Bucs on Sunday results in turnovers. Given the Bucs' injuries and new parts on offense, that might be their clearest path to eating a "W."
---
Watch Sunday's Bucs-Saints game with fans and Ira Kaufman at Big Storm Brewery in Clearwater at 1 p.m.. Great food. Spectacular beer. Fun times. [Big Storm Brewery]
Watch Sunday's Bucs-Saints game w/ @IKaufman76 and Bucs fans at Big Storm Brewery
— 49th St. in Clearwater.
Massive covered patio, plus indoors. Great TVs & audio and Florida's best craft beer and a killer menu. pic.twitter.com/uTcCkIBYjc

— JoeBucsFan (@JoeBucsFan) September 13, 2022