Team Glazer Offers Seven-Figure Donation To Aid Hurricane Victims; Big Storm Brewery Leads Supplies Drive
September 30th, 2022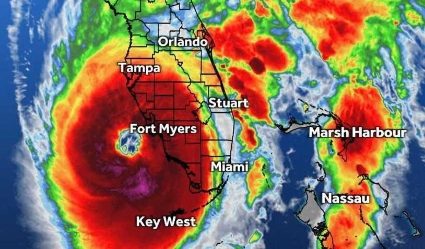 A couple of strong, community-minded Tampa Bay businesses have decided they cannot stand on the sidelines and see good people not get the aid they need.
The videos of what Hurricane Ian wrought on Southwest Florida are painful for Joe, and for just about anyone with a heart. The stories of storm victims and videos of their families are heartbreaking. And it very easily could have been us in Tampa or Largo or New Port Richey.
Yesterday, Team Glazer announced a $1 million donation to various unnamed organizations that will offer funds to those who have been the most impacted.
"The destruction suffered in Southwest Florida and the damage inflicted throughout our state will be felt for some time," Bucs co-owner Darcie Glazer Kassewitz said in a team release. "It will take entire communities resiliently working together for an extended period and our family is committed to aiding in the recovery.

"Our thoughts and prayers are with the countless people affected, the heroic first responders and all of those helping to keep others safe."
Joe thinks this is a gracious move by Team Glazer. Further, Joe believes the Bucs have a fantastic in-house representative to help raise awareness of the plights of citizens of Southwest Florida, who for the near future have no electricity, no cell phone service and no running water.
That person is practice squad receiver Deven Thompkins. You see, Fort Myers is Thompkins' hometown.
Also, Tom Brady said he would be making a donation to Florida Disaster Fund to help Hurricane Ian victims.
 Joe's good friends at Big Storm Brewing launched an effort on Thursday to collect supplies for Southwest Florida residents. You can view the video below for information.
To donate to Big Storm Brewing's drive, click here. Needed supplies can be dropped off at Big Storm Brewing in Clearwater at 2707 49th St. North in Clearwater, just south of Ulmerton Road, and the Big Storm Brewing taproom in Odessa at 2330 Success Drive, just east of Duck Slough Blvd., and a couple hundred yards north of SR 54.
A message from @LJGovoni regarding the SWFL relief effort. If you are in any position to help, please reach out. pic.twitter.com/5m1owr6g5S

— Big Storm Brewing Co (@BigStormBrewing) September 29, 2022