Mike Evans Suspension Is Upheld: Todd Bowles And Byron Leftwich Weigh In
September 21st, 2022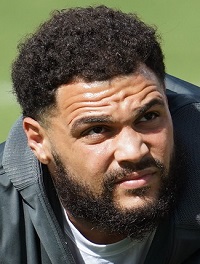 The Mike Evans one-game suspension for cheap-shotting mouthy Marshon Lattimore was upheld today.
No surprise. So how can Evans avoid being suspended in the future?
Todd Bowles had a clear take on that yesterday on the Buccaneers Radio Network.
"You either break it up or you grab the other guy and pull him out of the way, or you pull your own teammate out of the way," Bowles said of what Evans could have/should have done.

"We can't afford to lose players. That's not going to help us the next week, especially every good players."
Offensive coordinator Byron Leftwich had his say on the broadcast.
"Obviously Mike knows he's way too important for us to lose him," Leftwich said. "And he understands that. We talked about that. He understands that. If we lose Mike and somebody else loses their guy, it's advantage them because Mike's that important to us."
Leftwich went on to explain that Evans opens up a ton for the offense just by being on the field, even when he's not targeted. So his absence is tremendous.
Don't do it again, Mike!