Jason Garrett Has Strange Bucs Observation
September 9th, 2022
When last seen on a football field, former Cowboys head coach Jason Garrett was an offensive coordinator with the Giants and he walked off The Licht House field in shame.
Hours later, he was unemployed.
So perhaps Garrett is a little bitter at the Bucs because hours after his offense only put up 10 points against a beat-up Bucs defense last year, Garrett was canned by the Big Blue.
Garrett now works for NBC Sports and was speaking yesterday about Sunday night's Bucs-Cowboys game. The Cowboys have an advantage, Garrett thinks, because the Bucs won't run much due to two guys making their first NFL start on the Bucs' offensive line.
And as a result, Garrett believes Tom Brady will be a much lesser quarterback. Garrett's quotes come from NBC Sports by way of Jon Machota of The Athletic.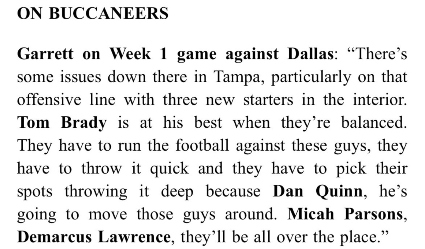 This makes no sense to Joe. Do the Bucs become a little disjointed at times when they can't run? Yeah, what teams don't? But dang, no team in the NFL was more imbalanced than the Bucs last season when Brady led the league in passing. What is Garrett talking about here?
Brady put the ball in the air 719 times and had one of the best seasons of his unrivaled career. Hell, Joe harps on the "Ira Kaufman Podcast" often that the worst thing the Bucs could do would be to have a balanced offense and as a result, take the ball out of Brady's hands. You want your best player to have the ball!
Maybe this is a reason why Garrett is out of football?
To be fair, Joe thinks Garrett's analysis of what Cowboys defensive coordinator Dan Quinn will do Sunday night is spot on.