All-Pro Center: Robert Hainsey Will Be Fine; Luke Goedeke Is A Concern
September 9th, 2022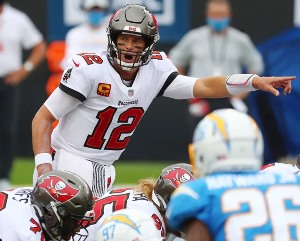 Joe feels the irony in delivering this take on the heels of Rams quarterback Matthew Stafford getting sacked seven times last night.
Stafford is a savvy 13-year veteran with a Super Bowl ring known for delivering the football quickly. Still, he got hit a whopping 15 times in the Rams loss to the Bills.
Joe brings this up because former Colts All-Pro center Jeff Saturday was adamant on ESPN TV this week that he's not concerned about first-time Bucs starting center Robert Hainsey, though starting rookie left guard Luke Goedeke is a significant issue for the Bucs.
Regardless, Saturday said, Tom Brady is too smart and too good — with too many weapons — to not be able to overcome protection issues tied to inexperience on the offensive line.
"When you got four or five [offensive linemen] who you feel are legitimate competitors and will stand kind of the test of time, you understand where your negative play or potential liability is," Saturday said. "If you don't think a dude who's 45 years old and threw for the most yards last year in the NFL understands how to manipulate the pocket and coverages and protections, you're kidding yourself. This guy understands football. Again, he is the driver of this football team. You cannot have concerns when you've got Evans, you've got Godwin; They will be back at full strength.

"This offense will move. I have no concerns about the Tampa Bay offense. None. Not even a little bit."
Joe found Saturday's take especially interesting since Saturday isn't one of ESPN's hot-take artists.
Is he correct? The answer comes on the field. Brady is a football Einstein and better than Stafford, and Joe believes Saturday is on the money. But it's unclear how many hits Brady can actually handle over a 17-game season.
Brady may be able to limit the hits if Goedeke and Hainsey aren't ready for prime time, but he can't eliminate all of them.