It's Official. Ryan Jensen Placed On Injured Reserve.
September 1st, 2022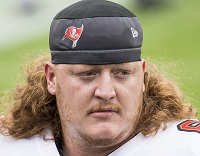 Pro Bowl center Ryan Jensen might not play this season, but he certainly won't be on the field in September.
Jensen got the official "injured reserve" designation today, as expected because of his bad knee injured five weeks ago.
Jensen is now off the 53-man roster and is eligible to return in four weeks. It seems the Bucs would be lucky to get him back in 14 weeks. The team still has not released the specifics of Jensen's injury.