Flying Julio Jones
September 13th, 2022
So, Julio Jones is a washed-up old man of a receiver who needs to go to the old folks' home, eh?
A lot of folks scoffed when the Bucs signed former All-Pro receiver Julio Jones. And Joe admits to being a bit skeptical, too. Julio hasn't been the same (you know, the receiver Mike Smith made famous) in the past couple of years, largely due to injuries.
And Julio was a total non-factor for the AFC South champion Titans last year.
Well in training camp with the Bucs, Julio looked damn good — when he practiced. The Bucs barely had him practicing because at this point in his career, Julio has become brittle. But the talent is still there.
How much so? Jenna Laine of ESPN apparently found the speed of Julio from NextGen Stats, which has censors on players' equipment that allows the NFL to track speed. Apparently, Julio still has the quicks.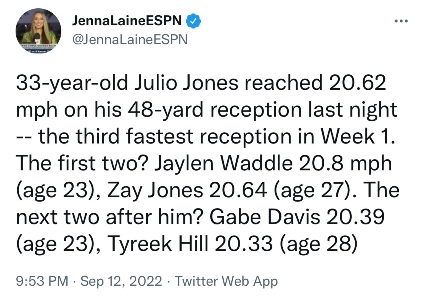 Yeah, that's right! Julio was faster than Cheetah Hill this weekend.
So it seems not only can Julio make some receptions that foot-rubbing Rob Gronkowski used to make, Julio can replace snaps from another key member of the Bucs' 2020 Super Bowl champions. Antonio Brown and the nutcase's ability to stretch the field.
Tom Brady isn't the only member of the Bucs teasing Father Time.