Leaning Left
September 13th, 2022
If Joe had explained to Bucs fans the following on Sunday morning, the freakout would have been epic to monitor.
Imagine if fans knew in a two-score game at halftime in which the Bucs couldn't get the ball into the end zone, that the left side of the Bucs' offensive line would be backup left tackle Josh Wells, rookie Luke Goedeke and at center Robert Hainsey (making his first NFL start), the meltdown would have been worth paying to watch.
And that's what happened in reality when Smith left the game with a hyperextended elbow.
Yet what did the Bucs do? They ran Playoff Lenny left.
NextGen Stats demonstrated that Fournette was having success doing that — big-time success.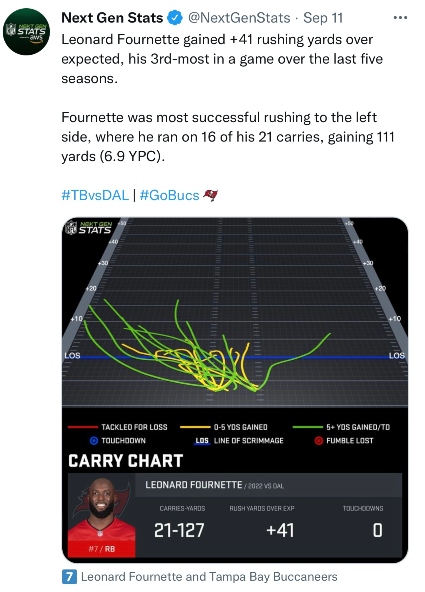 This blew Joe away.
So this information tells Joe a few o things:
1) Goedeke, Hainsey and Wells were getting the job done on the ground.
2) The Bucs trusted two guys who were green as beer on St. Patrick's Day.
3) That offensive line coaches Harold Goodwin and Joe Gilbert know what the hell they are doing and can coach guys up.
Always remember and never forget, coaching matters. Right, Lovie?