Decision On Bucs Game Likely By Friday
September 27th, 2022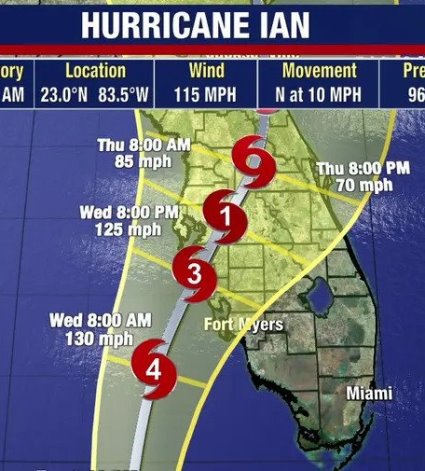 Joe should have hit the road by now to escape Hurricane Beckles. Bucs news comes first! Joe can always find a new house.
Last night NFL insider Jeff Darlington, the pride of Seminole High School in Pinellas County, Twittered that despite the Bucs moving their practices to South Florida to avoid Hurricane Beckles, and the Dolphins playing Thursday night, if the Chiefs-Bucs game needs to be moved, it will not be in Miami.
That seems beyond weird to Joe. But as Derrick Brooks would say, "It is what it is."
Darlington further revealed that a Midwest venue would be likely and mentioned the Vikings. This seems even weirder to Joe. Why move the game to the northern reaches of the Midwest? Why not somewhere in Texas or somewhere else in the south?
Joe will speculate stadium availability (these stadiums are often used for other events) and the ability to cobble together a support staff on short notice to pull off a game are contributing factors.
Dan Graziano of BSPN reported today the NFL can make a decision on where the game will be held as late as Friday. That late to make a decision will leave quite a few folks scrambling, that's for sure.
The issue of keeping the game at The Licht House is basically this: Can there be support staff and stadium workers available to host a game? If Hurricane Beckles is as bad as officials believe, a good chunk of the area will be under water.
Also, cops who would work a Bucs game likely would be on duty elsewhere.
Local officials are warning about possible widespread, long-term power outages. Hard to hold a night game if there isn't power.
Also in the forefront of folks' minds, would there be structural damage to The Licht House? A light stanchion getting blown loose from its foundation would kill the chances of a night game.
Joe guesses the postponement of Super Bowl-winning coach Bruce Arians being inducted Sunday into the Ring of Honor was a tip that the game will be moved.