Clarification On The Tom Brady "Personal Days"
September 19th, 2022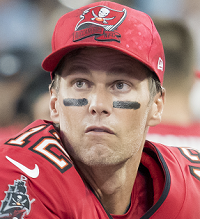 Great news this afternoon from One Buc Palace. Actually, it was more of a clarification.
NFL Network reported yesterday morning that Tom Brady would have a rest day/personal day every Wednesday for the remainder of the season. The implication was that Brady would skip practice and be out of the building.
Head coach Todd Bowles confirmed today that Brady will be at One Buc Palace every Wednesday in meetings, etc. So he will be there to do all the valuable things Brady does as a leader and tone-setter of the Buccaneers.
Joe was relieved. It would have been awfully odd, and likely a negative to some degree, if Brady had a true day off every Wednesday. Joe wouldn't have been worried about Brady's play, just everyone else around him.