Chris Simms Predicts Bucs Repeat As Division Champs
September 3rd, 2022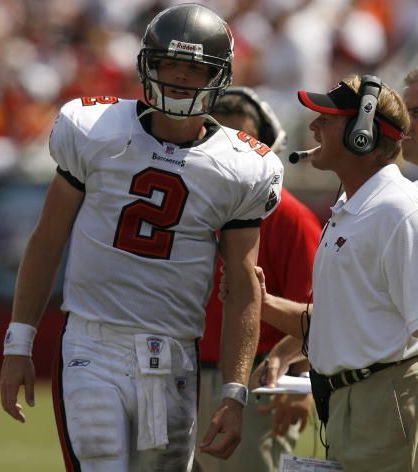 Lots of firm takes from former Buccaneers quarterback Chris Simms on the state of the NFC South.
And yes, his picks are in courtesy of NBC Sports.
Simms sees the Bucs winning the division with a record of 11-6. "I'm expecting 11-6, maybe they get upset and go 10-7," Simms said on his Unbuttoned podcast.
The absence of Rob Gronkowski and Antonio Brown are major factors for Simms, as is the loss of Tom Brady in training camp (for other players, not Brady) along with a new head coach, overhype of Julio Jones and the Bucs' schedule.
"You just don't seamlessly transition [to a new head coach] and say, 'Hey, we're back to the Super Bowl," Simms said, before noting fans should "pump the brakes" on thinking Julio will be anything more than "a nice target" and not the Falcons version.
The good news is Simms thinks the Bucs very likely could be better than their record when the playoffs roll around.
It's nine wins for the Saints in Simms' book, maybe 10. He thinks the loss of head coach Sean Payton will man less stress and more freedom for Jameis Winston — without Payton breathing down his neck to not make mistakes.
Simms also wonders whether cornerstone Saints defenders Cameron Jordan and Demario Davis, both 33 years old, will be run down by Father Time. (Joe will back Simms up on that wholeheartedly.)
Like the Bucs, Simms thinks the Saints could be better than their record come playoff time.
It's six wins for Carolina, per Simms, and four or less W's for the Falcons.
Fans will hear a couple dozen season predictions tomorrow from Sage of Tampa Bay Sports Ira Kaufman and Joe on the Ira Kaufman Podcast.