10-7 Would Be Unacceptable
September 3rd, 2022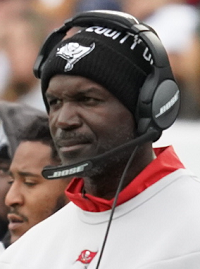 It's almost prediction season at JoeBucsFan.com world headquarters. And today Joe is recalling Tampa Bay finishing 10-6 in 2010 with legendary quarterbacks and superior head coaches in their division.
Nowadays, Bucs division opponents have bottom rung coaches and quarterbacks, and the NFC overall is weaker than it was back then.
So Joe is flummoxed by how anyone could think the Bucs finishing 10-7 this season would be remotely acceptable. It would be a horror show.
Imagine Tom Brady at quarterback with elite receivers and a defense with Pro Bowl players at every level marching into the 2022 season finale against the bumbling Falcons with a 9-7 record. That immediately has Joe remembering Team Glazer firing Chucky after back-to-back 9-7 seasons with a roster half as good as the current one.
Head coach Todd Bowles simply can't take a seasoned team on a 22-5 run with a roster loaded with legends and turn it into Josh Freeman's 2020 Buccaneers, or Dirk Koetter's merry brand of nine-win Bucs in 2016.
Sure, injuries could become great excuses, but they can't be predicted. Besides, every team's got them, including the Saints.
New Orleans played four left tackles this preseason, only to see their starter and two others lost to injuries while last year's stud left tackle has a new team.
The Bucs hired Bowles because they believe he can maintain the status quo: win the division and be a top-3 playoff seed. The latter required 12 wins last season.
The Bucs should be able to hit that bar, considering the Rams, Packers and Cowboys — which all won 12 games or more last season — appear to have taken a significant step backwards.
Joe is not predicting in this space, only exploring the lines of acceptable versus unacceptable. And barring multiple major injuries to key players, anything less than 11 wins this season would be a hot mess.