Byron Leftwich Reveals Tom Brady's First Words To Him
September 2nd, 2022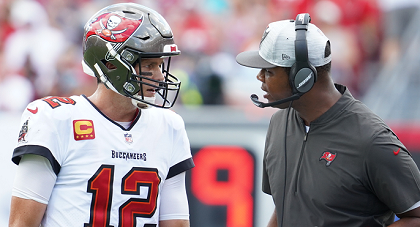 If you haven't listened yet to Byron Leftwich on The Pivot podcast, you're not the Bucs fan you think you are. As Joe explained last week, the segment was that good.
The Bucs' offensive coordinator was engaging, interesting and dropping a few good nuggets.
One nugget, Joe believes, speaks to how the Bucs will approach this season offensively. It's Tom Brady's first words to Leftwich after basic pleasantries.
"First thing Tom said to me was, 'Hey, I don't make no decision lightly. I know what I'm coming into. Tell me where you want the ball, you got people runnin' open everywhere,' Leftwich said. "That was the conversation. And you know, that's how we approached it."
Little has changed — and Brady now has what should be the greatest foursome of receivers in NFL history if they can get on the field at the same time.
Regardless, Brady should often have three beastly receivers terrorizing defenses more often than not. Plus pass-catching running backs he's familiar with in Leonard Fournette and Giovani Bernard, and enough tight end talent to keep defenses honest.
Yes, the Bucs will throw, throw and throw some more. Why? Because as The Goat himself said, "You got people runnin' open everywhere.