Tom Brady Says "There's A Lot Of Sh!t Going On"
August 27th, 2022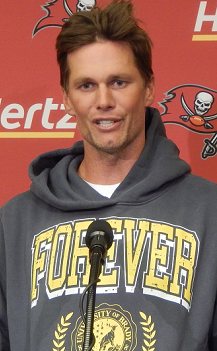 So Joe had to know. Was Tom Brady's excused absence to frolic in the Bahamas (allegedly) in the middle of training camp a carrot held out to him by the Bucs to lure him out of retirement?
Remember, the Bucs said Brady's 11 days off were pre-arranged.
With Brady making his first appearance before the Fourth Estate since his return from his mid-training camp getaway, Joe asked Brady if this time off was part of a "grand plan" he and the team arranged in an effort to bring Brady out of his 40-day retirement in March?
Brady got the gist of what Joe was asking and just before Joe finished his question, Brady began answering. Basically, Brady said there is a lot of [feces] going on in his life.
"It is all personal, you know?" Brady began. "Everyone has different situations they are dealing with. We all have really unique challenges to our life.

"I'm 45-years old, man. There's a lot of sh!t going on. I just have to figure out life the best you can. It is a continuous process."
Joe can only imagine.
Look at all the oars Brady has in the waters. He's dealing with Hanoi Jane and a bunch of eightysomething has-been hags actresses. He's hawking men's briefs with kangaroo pouches on social media. He's selling clothes like a new-age haberdasher.
And then he's trying to guide the Bucs back to the Super Bowl.
You'd need a vaycay in the middle of August, too.