Tom Brady Says Reports Of Him Wanting To Play Elsewhere Are Nonsense
August 27th, 2022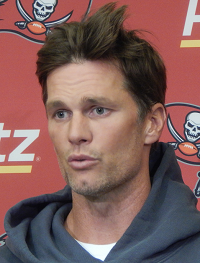 No media types asked Tom Brady tonight about potentially playing for the Raiders and Dolphins after so many recent reports of him yearning to go to those teams.
Joe hit Brady with multiple questions during his short postgame news conference, and that line of questioning wasn't on Joe's list. But Brady went there himself, all but denying he ever wanted to play anywhere but in Tampa after he left the Patriots.
Brady shared his love for the Bucs franchise and then went there.
"I read all these different stories about all these different places I was supposed to go or could have gone. I was only going to go to one place, which was here. I think this whole organization knows that," Brady said.

"All the conversations that we've had over a period of time, I chose the right place for me. And I'm very proud of the effort everyone's put in to make the relationship work. Joel [Glazer] has been amazing. Jason [Licht] is a great friend of mine. Bruce [Arians], Todd [Bowles]."
Brady added that his career would be "incomplete" without his Tampa Bay experience.
It doesn't matter to Joe if Brady is being sincere or not. He's here and he's not there — wherever there may be.