"Time To Worry"
August 22nd, 2022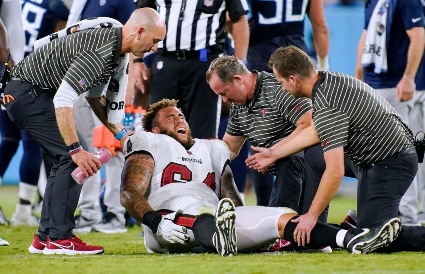 A well-known national NFL scribe who spent a few hours at One Buc Palace talking to many Bucs types and has a feel for what the suits and coaches think, typed this morning that he understands if Bucs fans are sweating.
And that stenographer is none other than soggy-socks-wearing, Daylight-Savings-Time-scared, crossword-puzzle-puzzled, Elon-Musk-peeved, Barstool-Sports-triggered, almond-milk-sipping, hot-dog-eating-contest-protesting, mock-draft-scowling, L.L.-Bean-wearing, tennis fans' advocate, Second Amendment abolitionist, Mike-Florio-arguing, parrot-insensitive, chewing-with-his-mouth-open, soup-gulping, California-train-romancing, anti-football proliferation, outhouse-admiring, airline-napping, steerage-flying, Yogi Berra-worshiping, urinal-picture-taking, video-game-playing, Taylor-Swift-listening, pickpocket-thwarting, Bucs-uniform-frowning, Allie LaForce-smitten, Big-Ten-Network-hating, pedestrian-bumping, olive oil-lapping, popcorn-munching, coffee-slurping, fried-chicken-eating, oatmeal-loving, circle-jerking, craft-beer-chugging, cricket-watching, scone-loathing, college football-naïve, baseball-box-score-reading, NPR-honk, filthy-hotel-staying, fight-instigating, barista-training, Budweiser-tolerant, baseball-scorecard-keeping, pasta-feasting, vomit-dodging scrooge, Kay-Adams-following, Coors-Light-souring, pineapple-upside-down-cake-eating social activist and NFL insider of NBC Sports fame, Peter King, thinks the season-ending knee injury to left guard Aaron Stinnie should have Bucs fans lying awake at night.
For as many weapons the Bucs have, the team being on the cusp of starting a left guard and center with virtually no NFL experience is not conducive to a thriving offense with a 45-year old immobile quarterback.
I think it might be time to worry about the Tampa Bay offense. I'm not worried about Tom Brady's absence—yet—because two people with knowledge of his time off told me over the weekend they expect he'll be back sometime this week, and they're not concerned. What to be worried about:

The starting offensive line at season's end was, left to right, Donovan Smith, Ali Marpet, Ryan Jensen, Alex Cappa, Tristan Wirfs.

After Marpet retired and Cappa left in free-agency, the starting offensive line a month ago, at the start of camp, was Donovan Smith, Aaron Stinnie, Ryan Jensen, Shaq Mason and Tristan Wirfs.

Wirfs strained his oblique last week; no timetable for his return. Stinnie was carted off in Nashville Saturday night; he was diagnosed with a torn ACL and MCL—out for the year. So the starting line for Brady (we guess) to open the season could be, left to right, Donovan Smith, rookie Luke Goedeke, Robert Hainsey, Shaq Mason and street free-agent Fred Johnson. Yikes.

No guarantee that Chris Godwin (ACL surgery, Jan. 3) will be back for opening day, though he's making good progress. Practice this week and next will tell.

We'll see how the beat-up front plays out. But offensive coordinator Byron Leftwich had better get his short drops and quick throws dominating his play sheet in September.
Well, here is the thing: The Bucs offense is all about downfield throwing.
Yeah, they could dink and dunk, but that's not this offense. So if the Bucs revamp their offensive attack on the fly, Joe believes it will neutralize so many weapons and drag it down.
Joe is starting to believe Bucs AC/DC-loving general manager Jason Licht will swing a deal for a left guard, picking up a recent castoff or trading for a veteran.
Since this is very likely Tom Brady's final season, Joe doesn't think this is the time to hope a left guard develops. Regular readers know how vile Joe thinks the word "hope" is.