So, What About That Run Game?
August 17th, 2022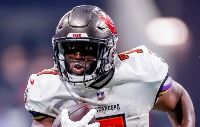 A lot of folks have broken out into a sweat and chugged several Big Storm Brewing beers wondering if the revamped Bucs offensive line can protect old man Tom Brady.
That's a valid concern, no question. And Joe is worried about that as well. However, there is a flip side to the restless nights Bucs fans have had since Pro Bowl center Ryan Jensen blew out his knee.
What will the new offensive line do for the run game. The Bucs had one of the more productive run games in the NFL.
Handicapper and stats nerd Warren Sharp documented how good the Bucs were running the ball. In all three downs, the Bucs were above if not well-above NFL average success rate.
What the hell is success rate? Well, it is when a running back carries the ball and gets 40 percent of needed yards on first down, 60 percent of needed yards on second down, or 100 percent of needed yards on third or fourth down.
"Needed yards" refers to yards needed to move the chains.
As recorded in the Warren Sharp 2022 Football Preview, the Bucs had a success rate on the ground of 53 percent on first downs, 55 percent on second downs and 69 percent on third and fourth.
That's crazy! Think about it: Well over half the time the Bucs chose to hand off on third and fourth downs, the result is a first down. Amazing.
Joe hates to type the following, but with three new interior offensive linemen, it seems unreasonable to expect the Bucs to match that.
If the Bucs can duplicate that success rate this fall (or improve?), Joe thinks the Bucs will be in good shape come January.